Leveraging Data for Analytics and Insights: Leading Healthcare Suppliers Know the Shared Value
Monday, August 8, 2022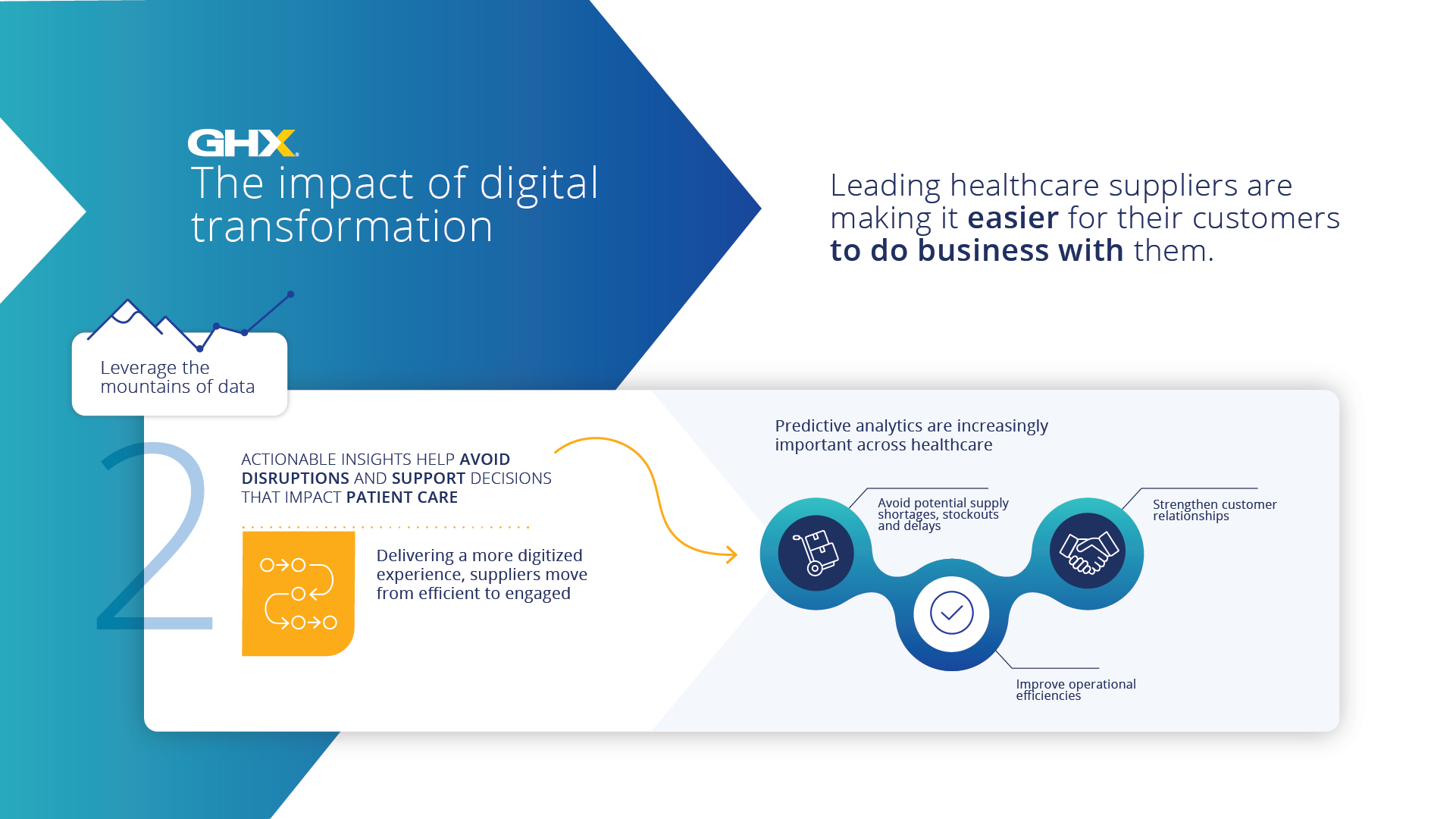 Leading healthcare suppliers are embracing the needs of their healthcare provider customers for more automation from end to end in supply chain. A well-planned digital transformation strategy helps to contain costs, support supply chain resiliency, and distinguish leading suppliers from the rest of the pack.
From the first step of digitization comes an abundance of data. But for all stakeholders to reap the value from the output, we need a way to understand and put the data to use in a way that drives better patient outcomes. Predictive analytics can help suppliers and customers support critical business decisions impacting patient care.

MAKING SENSE OF THE MOUNTAINS OF DATA 
When you are able to glean actionable insights from your data, it works to avoid supply chain disruptions and support decisions that impact patient care.

Digitization is the critical first step in this journey because it creates the data foundation. However, a digital customer experience goes well beyond automation. It leverages data in order to change behavior and results. As the volume of data continues to grow exponentially daily, it is driving suppliers to further evolve their approaches to customer engagement.
The next critical step in building a digital customer experience is to transform the right data into actionable insights. When predictive analytics are applied to healthcare supply chain data, it can help support critical business decisions that improve patient care, and avoid potential supply shortages, stockouts, and delays.

Predictive analytics will continue to play an increasingly important role in the healthcare supply chain, enabling suppliers to gain a competitive advantage by making sense of the mountains of data. For example, it can help pinpoint which supplies are most effective for a particular patient cohort and how to deliver them in the most cost-effective way. This can result in better patient outcomes and improved operational efficiencies. It also helps build stronger relationships between providers and suppliers, and, in turn, between providers and patients.
A digital customer experience, extended to the point of care, aligns suppliers with customer needs. Coupling this with predictive analytics transforms the experience from efficient to engaged.
[Originally published on 5/2/22 in Medical Product Outsourcing Magazine]
What does it mean to be easy to do business with today?
Learn More