How Will Suppliers Respond to Increasingly Complex Healthcare Supply Chains?
Monday, August 8, 2022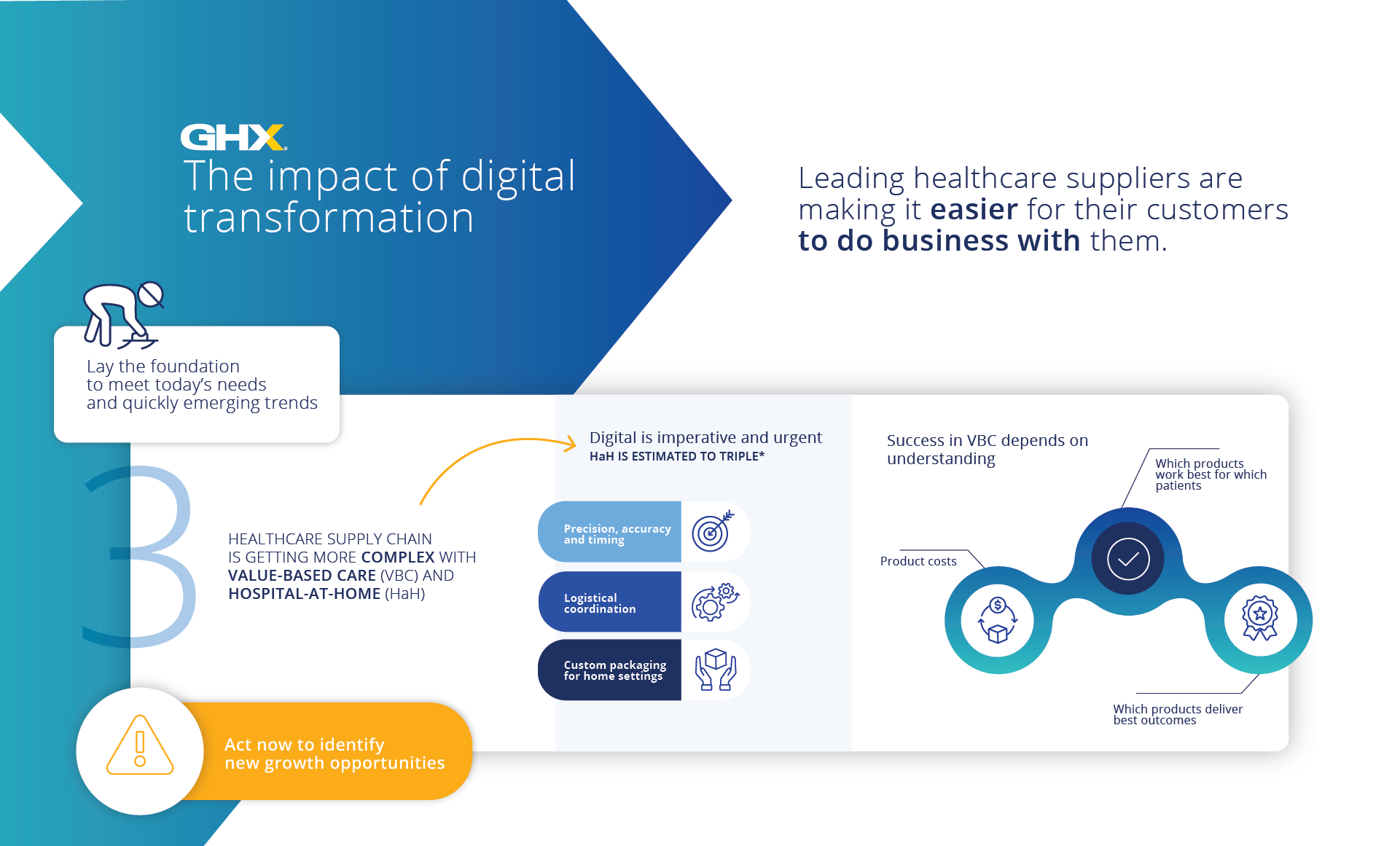 There is more complexity coming to healthcare supply chain. This will require support for value-based care and preparing for the continued rise in healthcare delivery outside of a traditional hospital setting. Precision, accuracy and timing for supply delivery will continue to grow in importance. Establishing a foundation that will support your customers' needs today and for quickly emerging trends is the critical third step in making it easier for healthcare providers to conduct business with you.

LAYING THE FOUNDATION FOR THE FUTURE 
Suppliers can play a critical role as providers strive to deliver value-based care, which requires a full understanding of the true cost of care delivery. This includes product costs, knowing which products deliver the best outcome, and which products work best for which patients. As today's supply chain professionals shift to digital experiences, increasing automation and standardization of supply chain processes, they have visibility into the true cost of providing patient care, including how variation can affect quality.

Delivering a digital customer experience in the healthcare supply chain is no longer an option, it's imperative. The urgency around it will only increase as patients and providers seek healthcare outside the hospital. Patients, in fact, have come to expect it. Telehealth went mainstream during the pandemic and today, around 40 percent of surveyed consumers expect to continue using telehealth—up from 11 percent of telehealth users before COVID-19, according to McKinsey.

As more healthcare is delivered outside of traditional hospital settings, HaH is also poised to take off in 2022. Along with COVID-19 being a key accelerator, the heightened focus on supply chain management, major advances in remote monitoring technology, and increased government and payor interests make this model more accessible. According to Forrester analysts1, the number of hospitals that deliver care at home will triple this year. This makes sense, given that HaH has shown to improve medical outcomes, lower costs, and help alleviate hospital systems' rising financial pressures.

However, as HaH is offered by more healthcare providers, the supply chain complexity around products and people will increase. Suppliers will need to work closely with providers to help ensure the effective logistical coordination of materials and supplies to patient homes. It will no longer be about getting supply to a storeroom, but rather packaging and delivering all supplies necessary for a care pathway. Suppliers who understand and complement this process will be those with the greatest customer alignment. Leveraging automation, data and insights, and new technology capabilities can allow suppliers to create new services and products that are specifically designed to support the HaH movement.
The ultimate digital customer experience will become one that connects from the patient through the digital front door and into a resilient, responsive supply chain. To deliver on this vision, suppliers must keep pace with today's digital transformation initiatives and the change they are accelerating in the healthcare supply chain. By taking the first steps now, suppliers can lead instead of reacting to the sweeping changes that are currently reshaping the industry.
1Predictions 2022: Healthcare, Forrester
[Originally published on 5/2/22 in Medical Product Outsourcing Magazine]
What does it mean to be easy to do business with today?
Learn More