Helping Healthcare Supply Chain Adapt for a Modern World
Rob Alcock, Chief Corporate Development Officer, GHX
Wednesday, April 26, 2023
As healthcare systems continue to be challenged with talent shortages, margin pressures, and supply chain disruptions, more and more organizations are carrying out a digital transformation with a shift to cloud-based ERP systems. However, this is a relatively new concept in healthcare business and many technology partners just don't have the healthcare supply chain experience required to support the mission.
In 2022 Workday announced its new industry program to accelerate clientcloud transformations and recently named GHX an Industry Accelerator for Healthcare in an April 17 press release.
Through GHX's partnership and joint innovation with Workday, clients can move to the cloud faster with industry-specific expertise and pre-built connections to industry-specific solutions critical to resiliency in supply chain, support for financial sustainability and access to analytics needed for value-based care.
💡 Read more: GHX Named Winner of the 2022 Workday Partner Innovation Awards in the Healthcare Industry
---
5 Ways GHX integrations for Workday will help accelerate value
1. Accelerate the resiliency of the healthcare supply chain in the face of ongoing disruptions, supply shortages and delays. When shortages occur, a data foundation sourced from the GHX Catalog with millions of items and attributes, such as UDI and UNSPSC, can help you find alternatives for the right item, at the right place to support patient care without needing to access multiple data sources. Leverage the integrated search feature with Workday Supply Chain Management for up-to-date, enriched item data in end-to-end supply chain processes.
2. Lower exception rates and increase efficiency with GHX and Workday developed cloud-based EDI solutions for greater levels of automation in ordering. Explore Workday BUILT for configuration and deployment.
3. Achieve greater control over your supply item master and contracts within Workday. Item and pricing data are more complex than ever before and have a direct impact on reimbursement revenue and cost savings. In fact, we've seen that as much as 51% of exceptions identified through the GHX Exchange are due to price changes.1 Expanding automation to item and price data management can help accelerate a more integrated supply chain and improve system resiliency. Explore Data Integration for Workday.
4. Enable more on-contract supply purchases and ease administrative burden on requisitioners and clinicians. Creating a consistent path for requisitioners to access curated contract items and required information at the precise point where needed enables more on-contract procurement, cost savings and optimal contract compliance. Working from the GHX Catalog—the industry's largest and most up-to-date item data catalog—and contract information integrated into Workday for your health system reduces the administrative burden on your requisitioners and enables a more consistent care experience for patients.
5. Create efficiencies throughout the procure-to-pay lifecycle and help reduce manual demands on your staff. Patient care moving beyond the hospital, staffing challenges and a complex supply chain are adding pressure to an already strained system. Automating the procure-to-pay process and moving to a cloud-based ERP are enabling a digital enterprise that is much nimbler and better equipped to address changing market dynamics.
GHX has spent 20 years partnering with healthcare leaders to gain a deep understanding of the complex demands of the healthcare industry. We have a shared vision of how to harness data and expand automation to improve organizational health and support health systems to deliver high-quality patient care.
Work with a strategic partner invested in industry success
For the modern healthcare organization, your cloud ERP system will be foundational for years and decades to come. However, digital transformation takes significant effort, governance and planning, and you want to get it right the first time.
Reducing friction in the user experience and reimagining processes for the modern supply chain are at the forefront of our innovation and partnership with Workday.
Learn more about how GHX can help you accelerate your digital transformation with Workday to achieve greater resilience in your supply chain. Contact us workdayinfo@ghx.com
1 GHX internal data source Jan. 2019-April 2022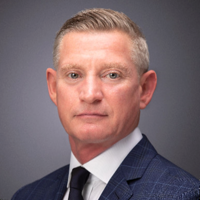 Chief Corporate Development Officer, GHX