Making Cost Savings through the Healthcare Supply Chain
26 July 2021
How do you cut costs without cutting services? In his final LinkedIn article on supply chain digitalisation, James Minards takes a look at the financial benefits of digitalisation and how it can help healthcare providers address costly supply chain inefficiencies without affecting the quality and frequency of patient services.
How do you cut costs without cutting services? It's a question which healthcare providers regularly grapple with as they try to pursue efficiency and savvy spending whilst doing everything possible to ensure those savings do not impact the care they give to their patients. With budgets stretched after a busy year of pandemic-related challenges, hospitals and healthcare providers should begin to look at their supply chains to find efficiency savings without affecting the quality and frequency of patient services.
Supply chain inefficiency doesn't just cause issues with procurement and stock shortages. Being unable to see current inventory levels can lead to staff ordering items that they don't need and that, ultimately, go to waste. It can also lead to a non-standardised system of procurement, leading to different locations within a single healthcare trust ordering vastly different materials, some of which may cost far more than others and offer far less value. Lacking control and oversight into supply chain processes can be extremely costly for healthcare trusts and can lead to savings being sought in other areas, which could have a detrimental effect to the quality of patient care.
These inefficiencies can be addressed best through digitalisation. This can start at a basic level, such as introducing an e-invoicing system to replace paper-based processes, helping to reduce the chance of human error when raising or settling invoices. Or it can be implemented on a much larger scale, such as creating a digital inventory of approved goods for healthcare settings to choose from when raising procurement orders, meaning that only the materials that represent the best value for money are ordered within a trust.
Back in 2012, GHX worked with Birmingham Children's Hospital as they struggled with a steep Cost Improvement Programme target of 6% efficiency savings in just three years. They were understandably worried that finding over £10 million of savings could have a major impact on their ability to care for the over 225,000 children who rely on their services each year. Was this possible by simply changing their supply chain operations?
The short answer is yes. Our project with Birmingham Children's Hospital included three things; supply chain optimisation, securing senior management buy-in and establishing trust-wide communication. This meant equipping senior managers with visibility over the hospital's procurement spend and allowing for electronic purchase orders, e-invoices and greater visibility and control over the total procurement policy, which led to an enhanced efficiency drive.
Improving visibility, automating procurement and moving invoices to a digital system saved the hospital £10.6 million, beating its target savings and helping the trust to achieve a strong financial position to meet its targets for the remaining two years of the cost improvement plan period; all without having to cut the quality or frequency of its vital services.
Post-pandemic, our healthcare sector will have to begin searching for ways to decrease costs as trusts look to settle the large amounts of money paid to respond to Covid-19. Whilst some see it as inevitable that this will impact the quality and frequency of services, there are other ways to find efficiency savings that don't involve cutting frontline services. Supply chain inefficiencies can be straightforward to iron out thanks to technology and expertise from healthtech specialists like GHX. It's those digital solutions that the healthcare sector should be looking to first as they seek to make efficiency savings.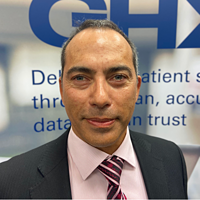 Country Sales Manager UK & Ireland