How Data-Driven Automation Can Free Up Time for Patient Care
16 June 2021
Healthcare providers have access to huge amounts of data, but is there an opportunity to use it more effectively to deliver better results for their patients? James Minards looks at how hospitals and trusts can use data to automate their procurement and inventory management and gain back valuable clinical time to spend on patient care.
Supply chains can be complex at the best of times, with logistics experts and dedicated procurement teams often required to help avoid a breakdown in supply. The last year of the pandemic has shown just how important it is to maintain real-time visibility across the medical supply chain to ensure the smooth delivery of critical care, but can we really expect medical staff to keep an eye on procurement and inventory management whilst trying to deal with an influx of new patients? Instead of diverting time away from critical clinical tasks, hospitals and trusts should be putting their data to good use by automating procurement and inventory management processes.
Many trusts and hospitals recognise the importance of capturing data, from patient records through to stock levels. But simply capturing this data is not enough. The pandemic has shown that the healthcare sector must be more dynamic in how it records and utilises its data, moving away from manually counting stock towards a digitalised system of real-time inventory insight. Improving visibility is just the first step; using the data to make improvements to a trust or hospital's operations is the key to more efficient stock management, proactive procurement operations and even improving patient safety (see my last article for more on that topic).
But how can healthcare organisations get the most out of their data? From automated stock replenishment routines when supplies drop below a certain threshold to accurate hospital records free from human error, data-driven automation can help hospitals and trusts to deliver better results for their patients while keeping their bottom line healthy.
Take GHX's work with Queen Elizabeth University hospital in Glasgow as an example. There, we worked to deliver a pilot scheme which replaced the old time-consuming manual process of inventory management through the roll-out of an automated, digital solution. Using handheld scanners, details of each medical procedure can be recorded, from consultant information through to materials used (from PPE through to higher value consumables such as implantable devices). This information is then transmitted wirelessly to a central digital database, which allows for an automatically generated report to help create accurate patient records free from human error, as well as an updated stock level to enable stock replenishment routines and purchase orders to be run automatically.
Freeing up more time for patient care and putting clinical staff back on the frontline is invaluable for acute settings, but also critical for the running of non-acute healthcare venues such as care homes. The Norfolk Community Trust underwent a two-stage digital transformation which saw an overhaul of its requisitioning operation followed by automation of its inventory management. By analysing data collected from the different non-acute settings within the community trust, GHX was able to establish stock levels on a ward-by-ward basis and developed a standardised list of products for non-clinical items. These items were then set to automatically replenish when they dropped below a certain threshold, meaning care givers could focus on patients rather than manually checking stock and processing stock orders.
The forthcoming Medicines and Medical Devices Act (MMDA) in the UK also provides a compelling regulatory reason for both acute and non-acute healthcare settings to consider automating their procurement programmes. In future, manufacturers of medical devices in the UK will need to obtain certification from the Medicines and Healthcare products Regulatory Agency (MHRA). Instead of manually checking each manufacturer's device to ensure compliance with the new law, healthcare trusts and hospitals could reduce the chance of human error and improve patient safety by automating their procurement programme to automatically reject stock orders for non-compliant devices.
Supply chains can be complex, but the role of a healthcare worker should be to look after patients, not to spend hours each month managing procurement and stock levels. By utilising the vast amount of data collected by trusts and hospitals, the healthcare sector should be looking to automate its supply chain processes in order to let clinical teams focus on their own important roles.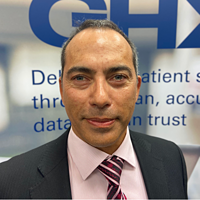 Country Sales Manager UK & Ireland