Digitalisation Can Reduce the Burden on Healthcare Staff
08 July 2021
How much of a benefit could a digitalised supply chain be for the clinical front line? In his third article on supply chain digitalisation, James Minards looks at how automating procurement and inventory management operations can help healthcare providers reduce the amount of time doctors, nurses and care workers spend on non-clinical tasks.
Automation and digitalisation of the healthcare supply chain and procurement operations can lead to improvements in areas such as cost, efficiency and, as I wrote a few weeks ago, even patient safety. For key medical staff, like doctors, nurses and care workers, automating time-consuming procurement tasks can also free up more time for patient-facing duties. From digitalising stock checks to creating automatic replenishment orders, healthcare providers can reduce the time their frontline staff spend on non-clinical tasks by making simple improvements to their inventory management operations. So, where exactly could time savings be made, and how much of a benefit could a digitalised supply chain be for the clinical front line?
Paper-based supply chain processes and manual data input often takes a large amount of time during the day-to-day running of healthcare settings. Clinicians have to take time away from patient care to fill out forms whenever materials are used, whilst inventory stock checks can take up to a whole day as staff manually count stock levels to see where they may be running short. These processes are needed to provide clinicians and management teams with good insight into stock levels and value, but take time away from frontline roles which are critical to better patient outcomes.
Traditional procurement processes, too, can be very time consuming for frontline staff. As doctors and nurses will have the best understanding of the stock they need and when, they are often the ones placing procurement orders. This process takes time, especially for those whose roles are not focussed on procurement processes. Manual procurement results in overstocking and increased wastage, where frontline staff are ordering more than they need, rather than having easy access to historic usage data supporting a "just in time" approach. This can have negative financial consequences, but also places staff under extra pressure to raise timely and accurate requisitions.
So, it's clear to see that manual inventory management and procurement operations are not the best use of time for frontline healthcare staff. The way to overcome this problem is to automate the process and allow doctors, nurses and care workers to focus on their patient-facing roles.
Digitalising inventory management can be as simple as equipping staff with barcode scanners which can be used whenever materials are used. These scanners update a central stock list in real-time to give up-to-date information on existing stock levels, enabling re-ordering and requisition processes to be run automatically when stock levels drop below a certain threshold. GHX implemented a similar two-stage approach to digitalisation for NHS Scotland, first by digitalising the ways in which stock levels were monitored by equipping clinicians with handheld devices, before creating automated programmes to replenish items once they fell below a specified level.
Whilst saving time for healthcare staff, this digital approach to inventory management also offers additional benefits for healthcare providers, as details of each medical procedure can be recorded, from consultant information through to materials used (from PPE through to higher value consumables such as implantable devices). This information can then be transmitted wirelessly to a central digital database, which can automatically generate reports to support accurate patient records and patient safety by improving batch traceability and speeding up recalls.
The past year has taught us just what a fantastic job our healthcare frontline workers do. Whilst digitalisation of supply chain processes in the healthcare sector can lead to a range of benefits, perhaps one of the most important is that it can alleviate some of the burden on those frontline staff to help them to focus on their clinical roles.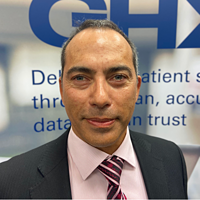 Country Sales Manager UK & Ireland