2022 Predictions for the UK Healthcare Industry
07 January 2022
Integrated Care Systems, Scan4Safety, data and digitalisation - as we welcome in another new year, what will be the key areas of focus for the UK healthcare industry in 2022? We asked our expert, James Minards, for their top predictions. You can read their thoughts here.
The introduction of Integrated Care Systems will be a key topic for healthcare providers, along with a renewed focus on the Scan4Safety programme. The ongoing impact of COVID-19 continues to highlight the need for greater efficiencies in the healthcare supply chain, leading to an increased focus on data-driven decision making. We also expect to see an increase in Cloud ERP migrations as more healthcare organisations adopt cloud-based systems to drive operational excellence.
Trusts will have to adapt to the new Integrated Care Systems
Perhaps the biggest topic of conversation in the UK healthcare sector at the moment is the implementation of the Integrated Care System, across acute hospitals and non-acute community healthcare settings involving multiple locations and organisations.
As we move into the new year, Trusts will be focused on adapting to the ICS model. Common issues they may face in 2022 include warehousing for the new system in order to efficiently store and distribute an individual area's own stock, mitigating the chances of shortages, and the importance of developing and implementing robust, data-enabled systems to coordinate inventory management of these centralised stores.
These potential issues will be compounded by the ongoing pandemic and its new variants: improved logistics and supply chain management will be particularly important as we continue to heavily rollout the COVID-19 vaccine booster programme over the next six to twelve months.
If Integrated Care Systems are going to be a success in 2022, the healthcare sector will need good digital systems in place to deliver on the promise of streamlining procurement and logistics. Whilst regional warehouses are a step in the right direction toward a more efficient supply chain, it cannot be stressed enough how important good data analytics and digitalisation of purchasing systems will be to realising a truly streamlined operation.
A return of the Scan4Safety scheme to enable more effective health services
After a short hiatus during the pandemic, the Scan4Safety programme picked up momentum again toward the end of last year, and will be an important factor in healthcare logistics planning for the year ahead. With support from the Government, we will see more and more Trusts driving forward with implementing the scheme to provide both greater efficiency in supply chain operations and much greater traceability of medical products to increase patient safety.
With healthcare professionals' time being pushed to the limits, automation is key. Scan4Safety will mean stock will be automatically reordered when supplies drop below a certain level as well as offering enhanced data capturing attributes such as serial numbers and expiry dates to improve patient safety – meaning if there is an issue with a drug it can be recalled, even if already used on a patient.
Data-driven decisions to improve efficiencies and much more
The importance of efficiency within the healthcare supply chain has never been as stark as it is right now. Both healthcare suppliers and providers will be looking to quality data to drive Purchase to Pay efficiencies, increase resilience, improve visibility of critical resources like PPE, and reduce waste.
It will surprise almost nobody to say that data can and will also play a major role in helping Trusts to improve patient safety, lower costs and ensure sustainability targets are met.
Data empowers the NHS to identify potential disease hotspots, predict problems ahead of time and allows Trusts to proactively deal with day-to-day patient issues in a timely manner. We can't underestimate just how powerful data will continue to be in 2022: to deliver the best patient care, but also to be at the forefront of all the major plays such as Integrated Care Systems, Scan4Safety and much more.
Without good data inputs none of these initiatives will get off the ground or be able to give back what is expected and needed. So, whilst data isn't a new topic for 2022 – it will be at the heart of every major play within the healthcare sector over the next 12 months.
Cloud ERP migrations will accelerate
Gartner forecasts the enterprise resource planning (ERP) market will reach £33 billion next year, with much of that growth driven by the adoption of cloud-based systems. In healthcare, the move to the cloud is becoming more mainstream. After more than a decade of investing in systems to improve clinical processes, healthcare executives want to use the cloud to balance patient care outcomes with efficiency. By integrating a cloud-based ERP system with other systems, such as electronic health records, healthcare Trusts can create a path to operational excellence.
As more migrations to the cloud take place in 2022, healthcare executives will have the chance to re-think and even redesign existing processes, such as data management. In this new environment, data can be thought of and provided as a service rather than just an internal capability. The integration of cloud-based systems is expected to drive operational excellence not only when operations are running smoothly, but also when disruptions occur. For example, if a critical product is back-ordered, the ERP powered by a data service can answer time-sensitive questions about alternative products, sourcing and approvals.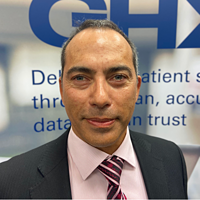 Country Sales Manager UK & Ireland