The GHX 5 Part Framework: Vendor Level Vendor Credentialing Compliance
Friday, October 28, 2022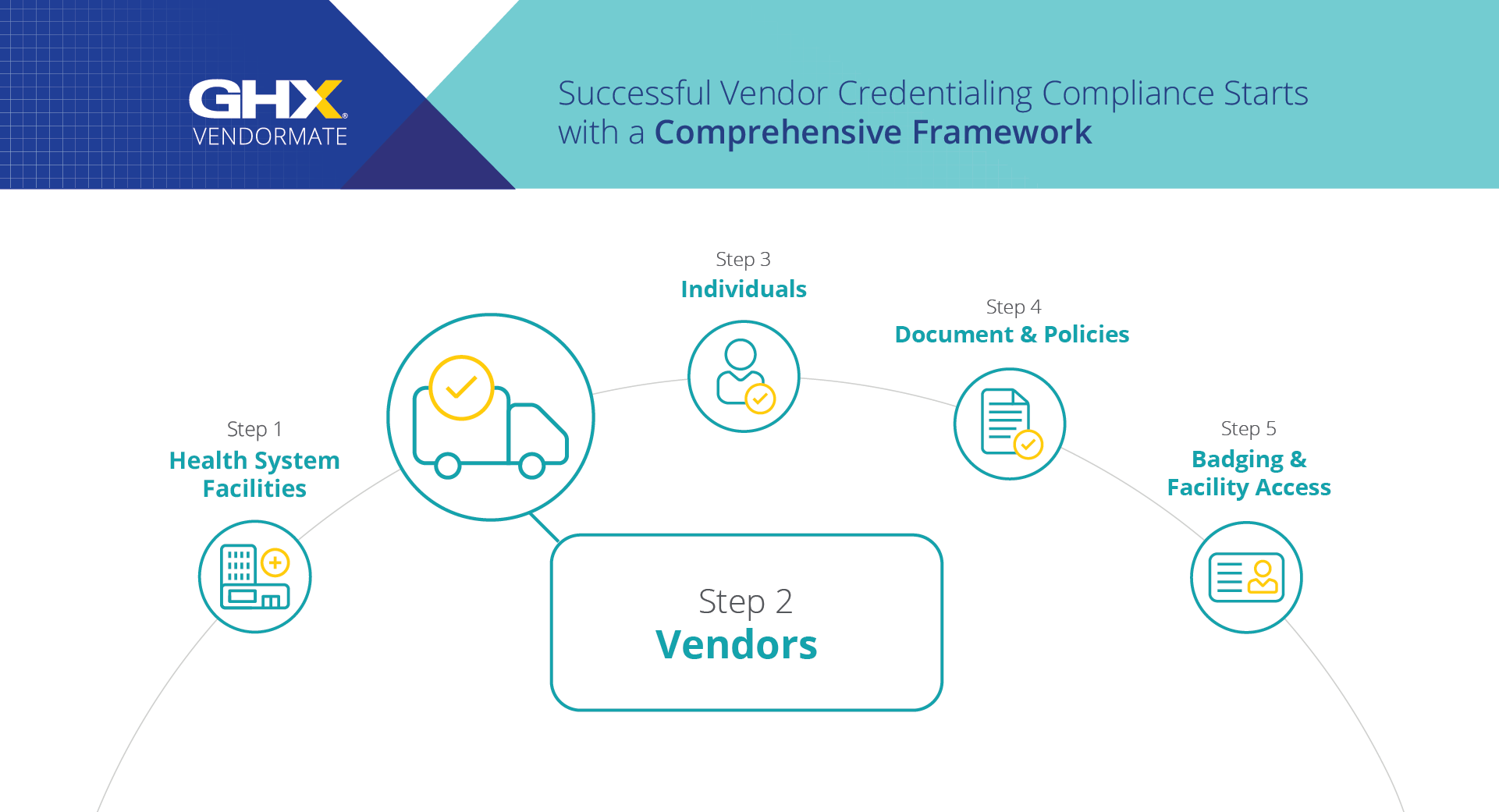 In the past, vendor credentialing was primarily required for medical suppliers and pharmaceutical companies. However, with the vast amount of new supply sources that have moved into the healthcare space due to the COVID-19 pandemic, the GHX 5 Part Framework recommendation is that every business be reviewed, validated and monitored for sanctions.
All vendor entities should register with a vendor credentialing organization—not just the ones that come on-site. However, our research indicated that only 15% of providers register all vendors on their credentialing platform.1
This is an area for risks in vendor credentialing compliance if vendor entities are not properly vetted and routinely monitored for sanctions.

A solution for this is to conduct a vendor analysis review. Have you compared your health system's accounts payable vendor list to the vendors tracked through your credentialing program? Often, only a fraction of paid vendors are registered with the credentialing program. 
Vendor-level best practices include:
Verify registration status before onboarding and processing payment for vendors.
Send your vendor credentialing organization an internal vendor file so they can do a vendor analysis review—i.e. cross-check the vendors you're doing business with against your registered vendors.
Enforce registration for all vendors including off-site only vendors, contractors, consultants, etc.
Require vendors under "incomplete registration" status to register by sending emails, setting registration deadlines, etc.
Require vendors who are not registered to register by sending them emails, setting registration deadlines, etc.
Include vendor compliance program contract language in your contracts with vendors.
*Key takeaway
As the healthcare vendor landscape changes, health systems will need to actively close credentialing compliance gaps. By vetting and monitoring all vendor entities, health systems are in a better position to achieve your vendor credentialing compliance goals.
1GHX Commissioned Provider Medical Credentialing Survey by Orbees July 2020
Learn More about the GHX 5 Part Framework: Introduction and Health System Level Compliance
Want to see how our team can assist you in optimizing vendor credentialing compliance? Schedule a review with one our experts today.
Schedule a Compliance Review
Vendormate Sr. Compliance Solution Specialist, GHX