The GHX 5 Part Framework: Representative Level Vendor Credentialing Compliance
Kim Fox, Vendormate Sr. Compliance Solution Specialist, GHX
Friday, October 28, 2022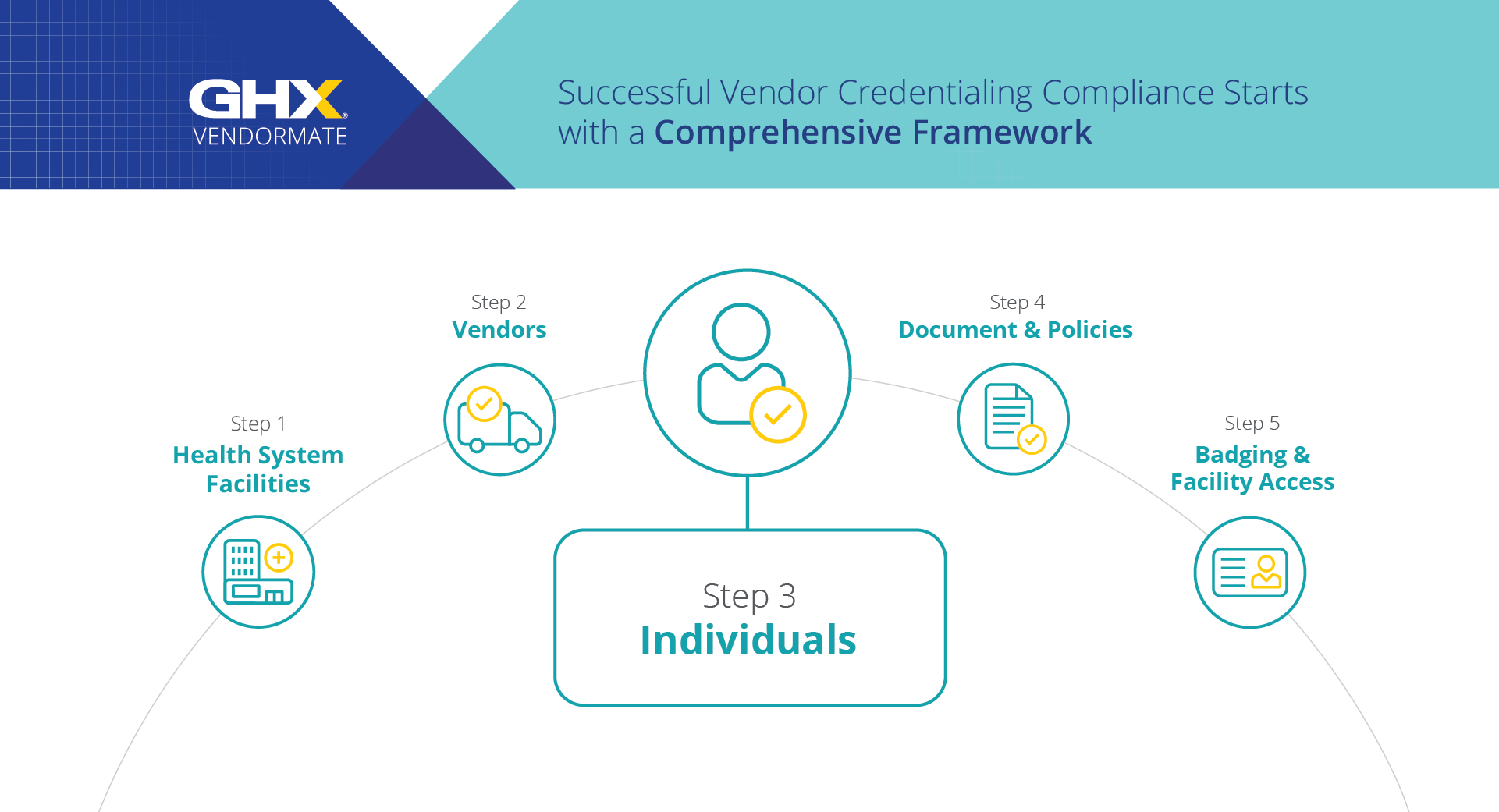 As technology evolves, so does the way health systems and business representatives meet, communicate, and interact. With these changes, come new vendor credentialing questions. For example: when a representative virtually remotes into an operating room, do they need to be credentialed?

At the individual—or 'representative'—level of vendor credentialing compliance, health systems should require all representatives with whom they conduct business, to be appropriately credentialed. This means representatives doing virtual and remote visits to areas such as the operating room or surgical suites should be credentialed too; these representatives are still conducting business and therefore require credentialing.
GHX data shows only about 60% of representatives who need proper credentialing are registered on vendor credentialing platforms. As is the case with vendor entity–level credentialing, representative credentialing requires improvement nationwide.
GHX found the highest levels of vendor credentialing compliance resides with on-site representatives who visit clinical settings (often pharmaceutical, sales and med-tech vendors). Conversely, lower compliance areas tend to include vendor representatives with access to non-clinical areas of the hospital (e.g. offices, cafeteria), and contractors. The goal is to help provide a more compliant health system with all representatives credentialed. All business representatives—whether they work in the cafeteria, the ER, or remotely from an offsite location—should be registered with your credentialing platform.
The Representative Level best practices checklist includes:
Require business representatives under "incomplete registration" status to register by proactively sending email communications with your registration requirements and a deadline to comply.
Require representatives who are not registered to register by proactively sending email communications with your registration requirements and a deadline to comply.
Provide your vendor credentialing organization with an internal email address (e.g. VM@provider.com) so they can help manage email communications on your behalf.
*Key takeaway
It is no longer just the on-site representative or contractor that needs to be credentialed, but also those who remotely do business with the healthcare facility. This is a new era for vendor credentialing compliance programs, aiming to support safety and security throughout the healthcare system.
1GHX Commissioned Provider Medical Credentialing Survey by Orbees July 2020
Want to see how our team can assist you in optimizing vendor credentialing compliance? Schedule a review with one our experts today.
Schedule a Compliance Review
Vendormate Sr. Compliance Solution Specialist, GHX